Warning: Full Spoilers for this episode will follow…
Agents of SHIELD celebrated it's landmark 100th episode. Instead of some cataclysmic, world-ending scenario. What I received was a story that went big on emotions.
It's been known that since the end of season 4 that Coulson made a deal with Ghost Rider to stop Aida and their trek into the future revealed by a future Yo-Yo that he's been living on borrowed time, unbeknownst to the gang.
The episode wastes no time addressing it. Man…it brought the tears. Especially as far as Daisy's concerned. The Coulson/Daisy bond has never been stronger. "You were what I believed in" cries Daisy. Chloe Bennet's growth over the last five years has been a joy to see unfold. She conveyed her unease about succeeding Coulson with ease. My eyes glassed over when it happened.
The threat this week was a tear that opens up to "fear" dimension. Which leads to some past faces returning with some major connections to each of the characters. Hive (Daisy), Lash (May) and last but not least…Mike Peterson/Deathlok!
J. August Richards gave the 100th episode a sense of symmetry as he was SHIELD's first case way back in the pilot. The beat where the ghost Mike throws everything Coulson went through into question could be a harbinger of things to come.
Clark Gregg was in a zone this week. Coulson facing his own mortality drove this episode forward. He, as well as Ming-Na Wen, continues to tease Phil and May finally getting together. Jeff Ward, who plays Deke, the Lighthouse smuggler is having a blast in the present (Zima!). He's quickly becoming a part of the gang.
There was a cool fight scene with Deathlok (the real one!), Coulson facing Hive, Lash and the Lighthouse roaches in a multi-monster showdown.
The episode is an embarrassment of riches when it comes to easter eggs. The drone from S1 appears, an LMD, a Kree, the Lighthouse roaches but this one beat where Deke walks past a pawn shop and the window displayed a gold mine!
The ending featured a wedding as Fitz and Simmons have made it to the altar. I went through sadness to shock to joy in the span of an hour and it had one more bombshell to drop as it's revealed that Deke is Fitz and Simmons' grandson!! (It feels good knowing that their happiness will last for a while)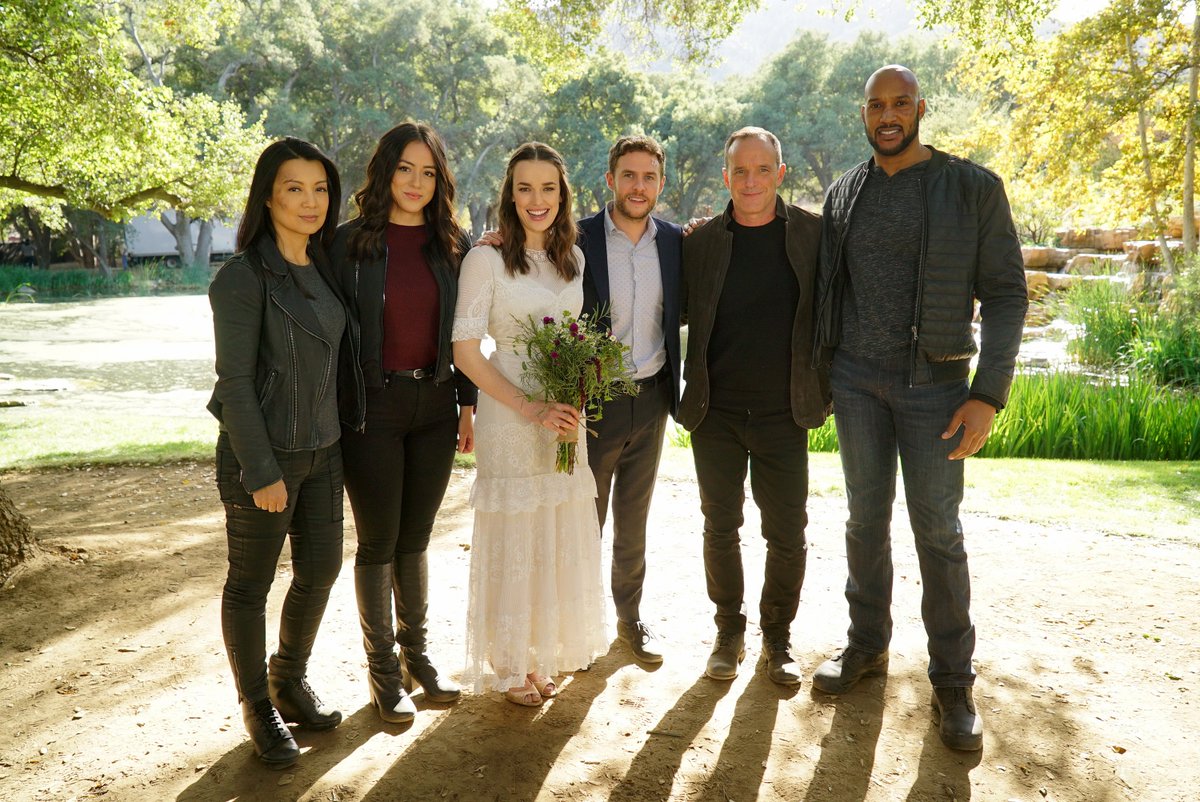 Overall, Agents of SHIELD's 100th episode was a family affair. On-screen and off-screen. Jed Whedon & Maurissa Tancharoen wrote the episode and Kevin Tancharoen (Maurissa's brother) directed it. It subverted my expectations by delivering the heart this show is known for. It was a celebration of how far it's come over the last five years.
To the whole cast and crew that kept me coming back for these last 100 episodes: Thank you!, I love you all and congrats!
I'm all out of roses to throw!