2018 will go down as the year of the black superhero from Black Panther breaking all kinds of records, molds and glass ceilings to Black Lightning debuting with a killer season 1. Luke Cage was the one to get that ball rolling two years prior.
Season 1, especially the first half, was a strong effort. Season 2 does what the Marshall Mathers LP, good kid, m.A.A.d city and The Score does by refining what worked in the first season and fixing what didn't work to provide a deeper, richer and overall better season.
This season takes place several months after what went down in The Defenders (Sidebar: expect spoilers if you missed it. I said what I said!) Luke is back on the block and his profile has risen significantly since he got out.
The public adores him:
He's in a good place with Claire:
He's keeping Harlem clean: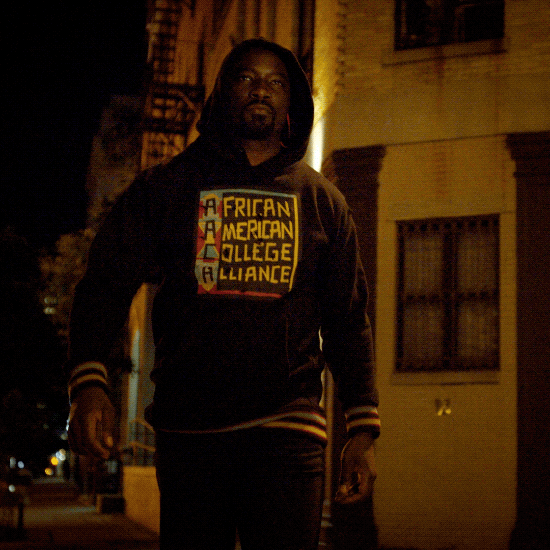 just as he's living his best life…past traumas such as his estranged father James Lucas (Reg E. Cathey in his swan song) and a power vacuum in Harlem's underworld as a years-long blood feud between Mariah Dillard and Bushmaster (Mustafa Shakir) threatens to tear this town apart.
Not everyone's in a good place. Misty Knight's still reeling from losing her arm in the wake of Midland Circle, she's been shunned by the police force because of Scarfe's actions as several of the criminals they've put away are back on the streets. I appreciated how the events of the Defenders had a ripple effect on this show and its characters.
Just like last season, each episode is named after Pete Rock & CL Smooth and the soundtrack gets deeper including Reggae to accentuate scenes involving Bushmaster. One scene, in particular, that echoes the Crispus Attucks sequence from Season 1 is set to Mobb Deep's Shook Ones. Harlem's Paradise is packed this season with appearances from Gary Clark, Jr, Faith Evans (returning for an encore), Jadakiss, Rakim, KRS One, Ghostface Killah, to name a few.
Mike Colter is having a lot more fun this go-around. Luke is finally embracing the limelight that he tried to stay away from. He doesn't have a mask like Daredevil and he doesn't lurk in the shadows like Jessica Jones or the Punisher, he's on front street all the time. Pop's Barbershop transformed into a makeshift merchandise spot. In the more dramatic beats, one with Rosario Dawson's Claire, he puts on an acting clinic about how black men are perceived "I'm a black man in a hoody" says Luke "People have always been afraid of me". With all of Harlem's eyes on him (there's even an app that tracks his whereabouts) the newfound fame amplifies the pressure and he begins to crack when Harlem starts to lose faith. He even gets closer and closer to becoming the Hero for Hire ("Just because you a woke superhero, don't mean you gotta to be a broke superhero").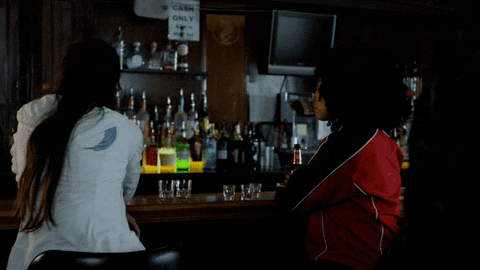 Simone Missick, who stole last season, stepped up tremendously. Misty undergoes a rough transition having to regain her confidence, her colleagues' perception of her being damaged goods and with a lost appendage on top of everything else. Misty's arc does echo Yo-Yo's (played by the fabulous Natalia Cordova-Buckley) journey on Agents of SHIELD last season, where she goes through a similar tragedy to overcome. It takes a new friend to set her straight as Colleen Wing (Jessica Henwick) stops by to help her out. I love that the show is further building on the groundwork that The Defenders laid down and it makes a strong case for a Daughters of the Dragon spin-off! She even gets the bionic arm which completes her transformation and she does some cool stuff with it!
Alfre Woodard puts on an Emmy-worthy showcase with Mariah Dillard. The one good takeaway from Cottonmouth's death is that it paves the way for her to fill the void. Mustafa Shakir threatens to steal her spotlight. Instead of a midseason switch, the show's a lot more focused with its villains this season. Bushmaster is every bit Luke's physical equal, their fights scenes together are dynamic. His style is very capoeira-like which is a great contrast to Luke's tank offence.
Tilda Johnson, played by Gabrielle Dennis, is introduced this season as Mariah's estranged daughter who owns an herbal shop. Tilda's resentment towards Mariah also parallels Luke's resentment towards his father. Theo Rossi's Shades gets a lot more to do this season, he gets to have an arc where he's more than just Mariah's arm candy and sneaking around in the shadows. His scenes with Comanché do hint at them having a deeper bond during their stint at Seagate.
The writing has levelled up this season. There's even easter eggs in the script, especially where Luke utters the words: "where's my money, honey?". It's also unafraid to call a spade a spade when it comes to the current political climate within its world. Putting Game of Thrones and State Property together is a crossover I didn't know I wanted.
"I haven't felt this way since November 9th"
Season 2 has a lot more fun cameo-wise. Especially one that was met with a lot of trepidation. I'm talking about Iron Fist. You can rest easy, everyone. Finn Jones in his guest appearance is a well-adjusted, centred and dare I say it…likable Danny Rand. Cheo Coker did the unthinkable with a legit Power Man & Iron Fist episode that did a lot to erase the sour taste viewers have had with his solo outing.  It's some quality course correction. The warehouse fight scene set to Wu-Tang Clan's 7th Chamber, pt 2 is all kinds of dope. You'll be saying "Sweet Christmas" when it's all said and done. I don't know about you, but I feel a little more optimistic about Iron Fist's sophomore run, better yet, a Heroes for Hire miniseries!
One thing this season hasn't fixed is its pacing. 13 episodes can be a double-edged sword. It can be slow to start. An argument can be made that a leaner episode count could work out for all the Marvel/Netflix shows or it can take a mini-arc approach a la Daredevil S2.
The sophomore curse can't land a mark on Luke Cage's face. Season 2 is bigger, better and deeper than the first. Once you get past the glacial pace, it's a thrill ride. The ending could very well change the game for this sub-universe going forward. It's a mic drop heard 'round the world!